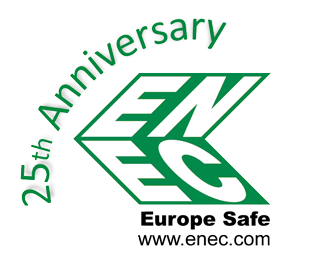 25 Years of future!
For 25 years, the ENEC Scheme has been a synonym for safety in the electrotechnical sector. It was initially established to serve the needs of the lighting industry but soon expanded to other electrical product sectors. Today it is recognised as a high quality, independent scheme for conformity assessment that comprises the most prestigious European Certification Bodies and an increasing number of Testing Laboratories, located in Europe and Worldwide.
While ENEC Mark certifies the safety of products, ENEC+ was introduced in 2014 for assessing their performance. Together, they guarantee that the product offered to the Market meets the best quality criteria.
Looking ahead, the ENEC Scheme aspires to expand its scope to new products and services and to offer a modern conformity assessment model that meets the challenges of the digitalised era in cooperation with the Stakeholders and the European Institutions.